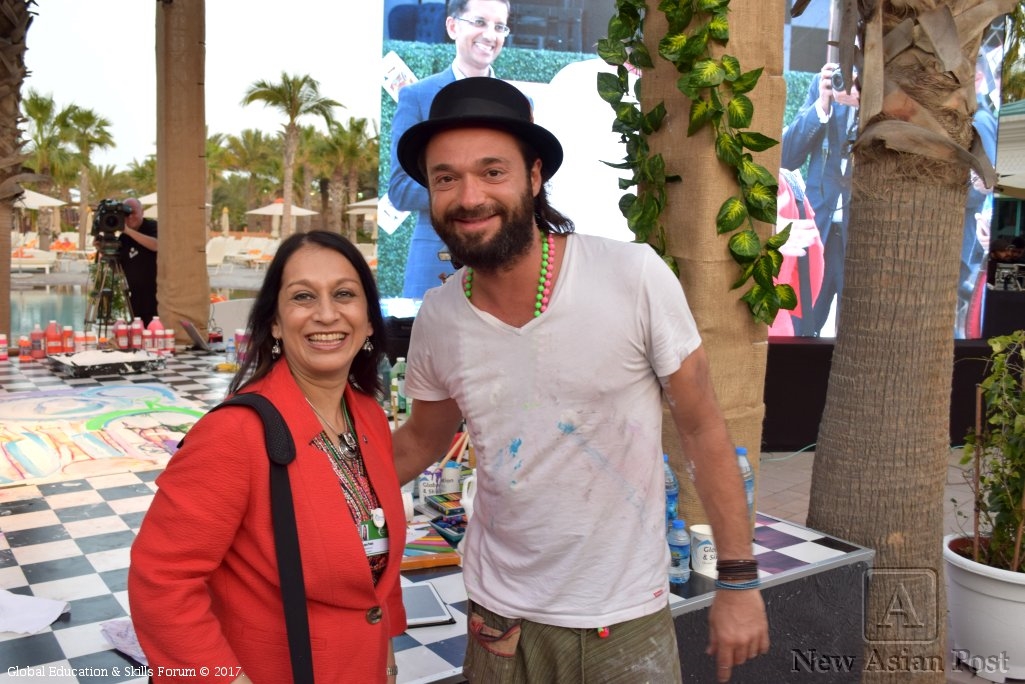 World-renowned artist Sacha Jafri painted a new Magical Realism canvas live at the Global Skills and Education Forum (GESF) from 18-19 March 2017. The fifth annual GESF – widely known as the 'Davos of Education' – was held at The Atlantis, The Palm, Dubai. The focus of this year's forum was how education can make 'real' global citizens, and Sacha Jafri painted two 6 ft by 6 ft canvases that visually represented global citizenship.
The canvases were stretched and framed to create a 4 metre by 2 metre diptych to form the centre piece of the GESF gala on Sunday evening. Distinguished guests at the gala hand-printed and signed the diptych which will then be sent to Jafri's London studio, where he will work on the painting to its completion. Jafri will then aim to collect prominent hand prints and signatures from Royalty and Heads of State as well as eminent leaders in the fields of music, film, the arts, sport, literature, education and politics. He will then further work these hand-prints back into the canvas. It will be auctioned in London later in the year with proceeds raised going to the Varkey Foundation, an education charity that supports global teaching capacity around the globe.
One of the world's leading contemporary artists and the pre-eminent pioneer of Magical Realism in art, in 2008 Jafri became the youngest artist in history to be offered a museum-based 10 year Retrospective World Tour. At the end of 2017 he will become the youngest artist to launch an 18 year Retrospective Global exhibition, which will travel to 28 countries and 36 cities.
Vikas Pota, CEO, Varkey Foundation said, "We are delighted that such a renowned and talented artist such as Sacha Jafri will be joining us at GESF 2017. The arts play a key role in education – not only have studies shown that exposure to the arts gives students a creative outlet, but integrating arts education with other subjects can help raise achievement levels across the curriculum."
"Arts education also helps children connect with the wider world, improving a sense of belonging and community cohesion, and with the theme of this year's GESF being how education can help foster global citizenship, it's fitting that Sacha will be painting a canvas that visually represents this."
Sacha Jafri said, "It is an honour and a privilege to be asked to create this painting for the GESF. We are all global citizens; part of a universal consciousness, but to be a good global citizen one must live one's life in a state of grace, of humility and truth; respect and kindness. From that state of grace something magical arises within the individual that nurtures the world. I hope my painting will bring joy, and inspiration and encourage others to live their lives in a state of grace."
About Sacha Jafri
Sacha Jafri graduated from Eton College in 1995, The Kent Institute of Art and Design in 1996, and gained a first class honours Master of Arts Degree from Oxford University in 1999. Since then he has had sell-out shows throughout Europe, America, Russia, The Middle East, Asia and The Far East.
Jafri's high profile commissions include the painting of the official 1000 day countdown to the 2012 London Olympic Games unveiled by HRH Princess Anne at the Natural History Museum; a life-size painted baby elephant sculpture for the 2010 Elephant Parade in London; the official painting to celebrate Sir Alex Ferguson's 25 years of excellence at Manchester United; a hand-painted TT for Audi; the official F1 Monaco Grand Prix painting commissioned by Prince Albert of Monaco which sold for $850,000; the much celebrated David Beckham painting, sold in 2009 for $500,000 subsequently valued at $1.4 million; the commission from Barbara Broccoli for the painting to launch the Casino Royale Bond film; a live painting created at the Royal Albert Hall in front of a 5,000 strong audience; and a commission to paint the 22 most influential living Muslims including such luminaries as Mohammed Ali, Zinedine Zidane, HRH Sheikh Mohammed al Maktoum of Dubai, HRH Sheikh Khalifa Al Nahyan ruler of the UAE, HH Prince Alwaleed AlSaud, and Omar Sharif.
He is the first artist to be featured on the front cover of both the New York Times and The Financial Times magazines. His works are some of the most collectable and sought after of the world's contemporary artists. Collectors include Presidents Barack Obama and Bill Clinton, Sir Bob Geldof, Sir Paul Smith, George Clooney, and Leonardo DiCaprio.
Jafri was awarded Young Artist of the year in New York two years running and received the UN's Art and Humanity Award in Belgrade for his artistic and humanitarian work having raised over US $40 million from the sale of his work for various charities around the globe.
About The Varkey Foundation
The Varkey Foundation believes every child deserves a vibrant, stimulating learning environment that awakens and supports their full potential. The foundation believes nothing is more important to achieving this than the passion and quality of teachers. They support global teaching capacity and seed excellence and innovation in the next generation of educators. They also founded the Global Teacher Prize to shine a spotlight on the incredible work teachers do all over the world.
For further details: www.varkeyfoundation.org
For further information about the Global Education and Skills Forum please visit educationandskillsforum.org
For further information on the Global Teacher Prize please visit: www.globalteacherprize.org