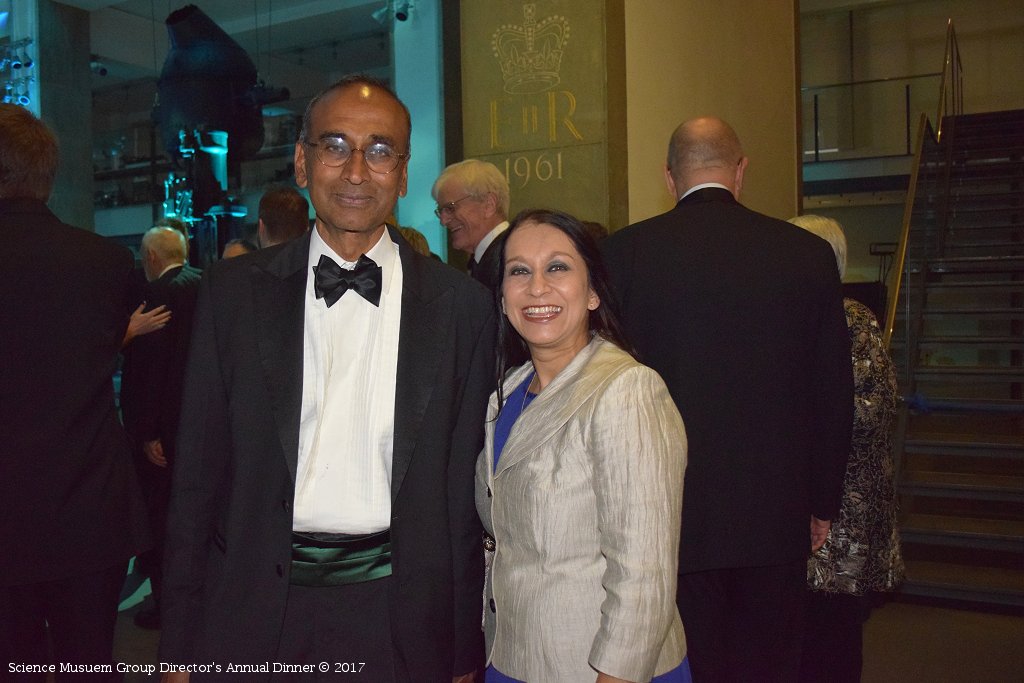 Sir Venki Ramakrishnan, was awarded a Science Museum Group Fellowship on 17th May 2017 in London. Nobel Prize winning biologist, Sir Venki, who is President of the Royal Society, was presented his fellowship by Dame Mary Archer, Chair of the Science Museum Group Board of Trustees, among guests that included leading science practitioners, philanthropists and supporters of science. Attendees at the Director's Annual Dinner also heard from Professor Lisa Randall, Frank B Baird Jr Professor of Science at Harvard University, who spoke about her work on dark matter. The Science Museum Fellows Programme was launched in 2009 to recognise some of the scientists and individuals who have changed our world through academic research, design, technology and philanthropy. Fellows include British astronauts Tim Peake and Dr Helen Sharman; physicist Professor Stephen Hawking and naturalist Sir David Attenborough, among others.
Sir Venki Ramakrishnan, Nobel Prize-winning biologist, was awarded a Science Museum Fellowship by Dame Mary Archer, Chair of the Board of Trustees, at the Director's Annual Dinner on Wednesday 17th May 2017.
About Sir Venki Ramakrishnan
Venkatraman 'Venki' Ramakrishnan is a Nobel Prize-winning biologist whose many scientific contributions include his work on the atomic structure of the ribosome. As the site within living cells where the genetic information is read to synthesise proteins from amino acids, improved understanding of the ribosome has yielded many fundamental biological insights.
He determined the atomic structure of the 30S ribosomal subunit followed by structures of the entire ribosome in many different states and in complexes with several antibiotics. More recently, he has been using electron microscopy to visualise ribosomes in action in higher organisms. This work has advanced our understanding of how the ribosome works and how antibiotics inhibit it. In the past he has also worked on histone and chromatin structure, which help us to understand how DNA is organised in cells.
Venki received the Nobel Prize in Chemistry for his work on ribosomal structure and was knighted in 2012. He is a Member of the US National Academy of Sciences, Leopoldina and EMBO, and a Foreign Member of the Indian National Science Academy. In 2015, he was elected as President of the Royal Society for a five-year term.
About the Science Museum
The Science Museum's world-class collection forms an enduring record of scientific, technological and medical achievements from across the globe. Welcoming over 3 million visitors a year, the Museum aims to make sense of the science that shapes our lives, inspiring visitors with iconic objects, award-winning exhibitions and incredible stories of scientific achievement.
Science Museum, Exhibition Road, London Open daily, 10-6pm www.sciencemuseum.org.uk
Click here to learn more about Science Museum Fellows.