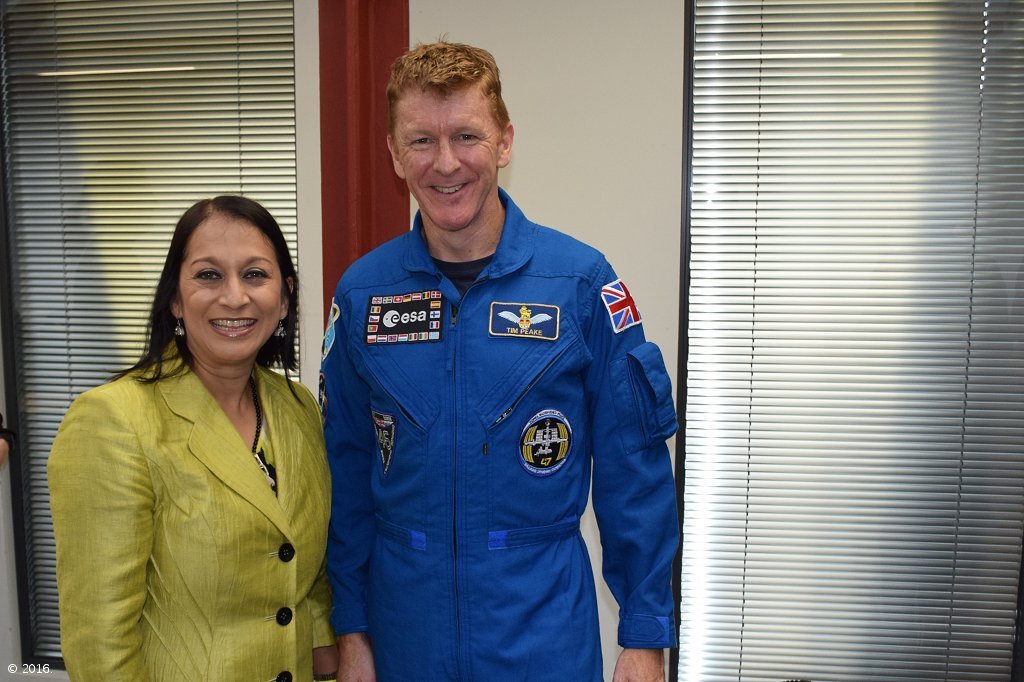 British astronaut Tim Peake appeared at a special family event at the Museum of Science Industry on Saturday 15th October 2016. At the event, which was attended by several hundred guests, Tim Peake talked by about his adventures on board the International Space Station and answered questions from the curious young audience keen to hear about his experiences in orbit. The event was a trailblazer for this year's Manchester Science Festival, taking place from 20th to 30th October 2016. Tim's appearance in Manchester is part of a seven-date UK tour organised by the UK Space Agency, which will also take in the Science Museum in London, on October 19th 2016.
About Manchester Science Festival
2016 marks the tenth birthday of Manchester Science Festival (MSF), produced by the Museum of Science and Industry. Billed as part laboratory, part playground, MSF is a showcase for the most creative, surprising and hands-on science, where people of all ages can participate, experience and be curious about the world around them. Last year the Festival staged 138 unique events, exhibitions and installations, delivered by 86 partners from the public, cultural, community and academic sectors across Greater Manchester. Last year's event attracted around 120,000 participants over 11 days – making it England's largest Science Festival. This year's Festival marks the end of the city's year-long role as European City of Science, and runs throughout half-term from Monday 20 October – Sunday 30 October 2016.
www.manchestersciencefestival.com
About the Museum of Science and Industry
The Museum of Science and Industry tells the story of where science met industry and the modern world began. Manchester was one of the first global, industrial cities, and its epic rise, decline and resurrection has been echoed in countless other cities around the world. From textiles to computers, the objects and documents held in the museum's collection tell stories of everyday life over the last 200 years, from light bulbs to locomotives. The museum's mission is to inspire all its visitors, including future scientists and inventors, with the story of how ideas can change the world, from the industrial revolution to today and beyond. The Museum of Science and Industry is part of the Science Museum Group, a family of museums which also includes the Science Museum in London; the National Railway Museum in York and Shildon; and the National Media Museum in Bradford. The Science Museum Group is devoted to the history and contemporary practice of science, medicine, technology, industry and media. With five million visitors each year and an unrivalled collection, it is the most significant group of museums of science and innovation worldwide.