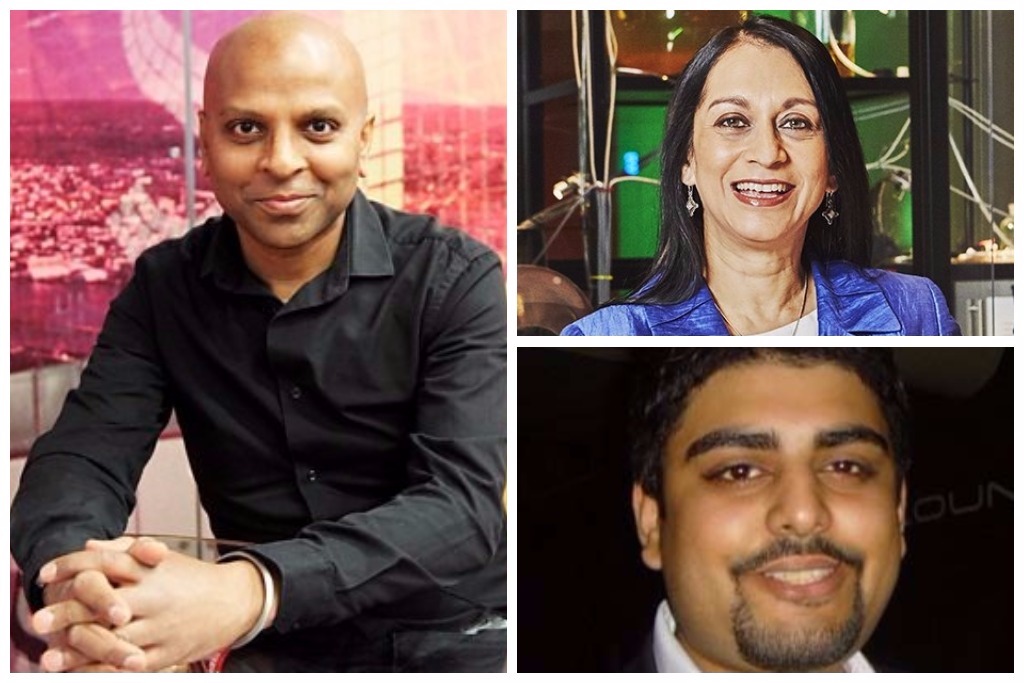 Radio presenter Dil Neiyyar hosted the BBC Asian Network Big Debate about technology on Monday 2nd October 2017 in London with panelists Lopa Patel MBE, Darshan Sanghrajka and Alam Ahmed. The debate featured an exclusive interview by Anisa Kadri with Satya Nadella, CEO of Microsoft, on the publication of his book 'Hit Refresh'. Mr Nadella was asked about his views on on Donald Trump, the fight against terror, AI and his love for cricket. Dil and the panel debated a host of issues including the impact of new technology in improving the lives of people, AI (artificial intelligence) and what it will mean for future jobs; the need for empathy in redeveloping corporate cultures and pervasive effect of a lack of diversity in the technology sector.
About Hit Refresh
Publisher: William Collins (26 September 2017)
Language: English, 288 pages
Available in Hardcover, Paperback & Kindle Edition
ISBN-10: 000824765X (Hardcover)
ASIN: B06XX4KH4R (Kindle)
ISBN-10: 0008247692 (paperback)
Guide Price: £13.60, £8.79, £9.99
Click to buy Hardcover Edition, Paperback, Kindle Edition
Microsoft's CEO tells the inside story of the company's continuing transformation, while tracing his own journey from a childhood in India to leading some of the most significant changes of the digital era and offering his vision for the coming wave of intelligent technologies.
Hit Refresh is about individual change, the transformation happening inside Microsoft, and the arrival of the most exciting and disruptive wave of technology humankind has experienced – including artificial intelligence, mixed reality, and quantum computing. It examines how people, organisations, and societies can and must transform, how they must 'hit refresh' in their persistent quest for new energy, new ideas, and continued relevance and renewal. Yet at its core, it's about humans and how one of our essential qualities – empathy – will become ever more valuable in a world where technological advancement will alter the status quo as never before.
In addition to his thoughts on these stunning scientific leaps, Satya Nadella discusses his fascinating childhood before immigrating to the U.S. and how he learned to lead along the way. He then shares his meditations as sitting CEO – one who is mostly unknown following the brainy Bill Gates and energetic Steve Ballmer. He explains how the company rediscovered its soul – transforming everything from its culture to its business partnerships to the fiercely competitive landscape of the industry itself. Nadella concludes by introducing an equation to restore digital trust, ethical design principles, and economic growth for everyone.
About the Author
Satya Nadella is Chief Executive Officer of Microsoft. Before being named CEO on February 4, 2014, Nadella held leadership roles in both enterprise and consumer businesses across the company.
After Joining Microsoft in 1992, Nadella quickly became known within the company as a leader who could span a breadth of technologies and businesses to transform some of the world's best known and most used products.
Originally from Hyderabad, India, Nadella now lives in Bellevue, Washington. He holds a bachelor's degree in electrical engineering from Mangalore University, a master's degree in computer science from the University of Wisconsin, Milwaukee and a master's degree in business administration from the University of Chicago. Nadella is married and has three children. In his spare time, he loves to read poetry and follows cricket, a sport he played in school.
BBC Asian Network interview with Satya Nadella
After moving from Hyderabad in India to America on his 21st birthday, Satya Nadella went on to become the CEO of Microsoft. Speaking to the Asian Network he shared his thoughts on Donald Trump's plans to make immigration tougher, the fight against terrorism, his enthusiasm for artificial intelligence and his passion for cricket. Our reporter Anisa Kadri read his book "Hit Refresh" and went to meet him.
Click to listen: http://www.bbc.co.uk/programmes/p05hvczy
BBC Asian Network Big Debate discusses the Satya Nadella Interview
BBC Asian Network Big Debate discusses the applications of future technology
BBC Asian Network Big Debate discusses empathy and creativity
BBC Asian Network Big Debate discusses the interaction between Humans & AI
BBC Asian Network Big Debate the moral imperative on diversity