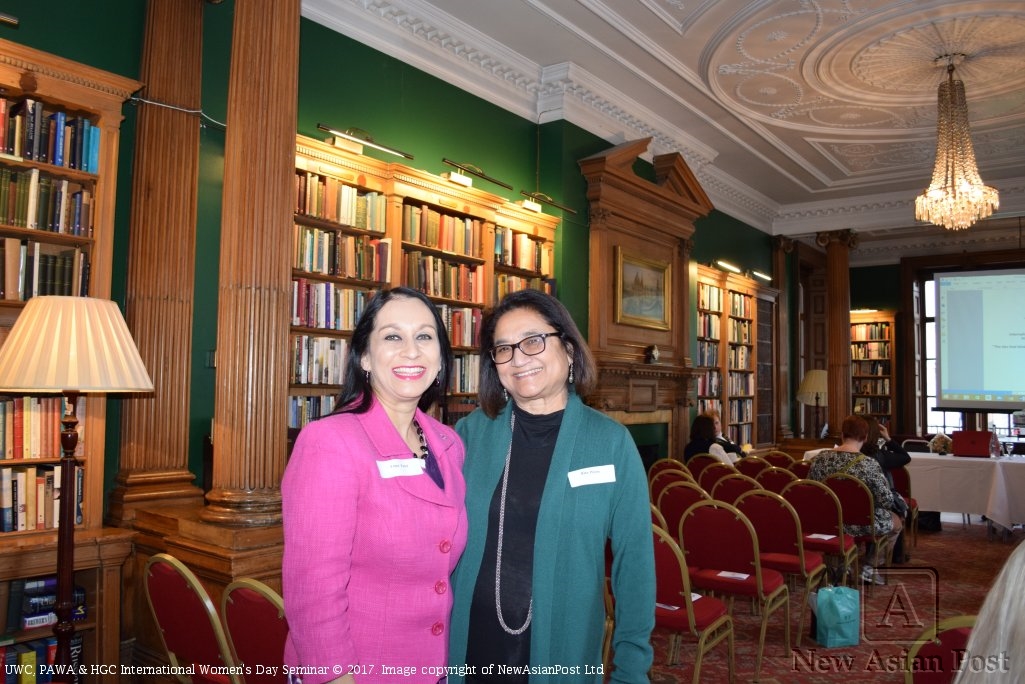 PAWA  held its International Women's Day "Ties that bind Women from East to West" event on 8th March 2017 at the University Women's Club, London. Held in association with the Hermann Gundert Society, the conference heard debates on 'Women in the Workplace', 'Radicalisation of Women' and on the issue of 'Women's Voices.
Chaired by Dr Gill Samuels CBE, the 'Women in the Workplace' panel comprised Mei Sim Lai OBE, Lopa Patel MBE and Cordelia Hanel who debated issues such as how to enable women to succeed and how to overcome media and cultural stereotypes. The 'Radicalisation of Women' panel debated the key challenge of how women and young people can counter extremism with panellists Nikita Malik (Quilliam), Victoria Schofield, Tamina Mir, Yalda Hakim and Edna Fernandes and moderator Hazel Blears. Attendees watched a PAWA film and presentation on the charity's theme 'Educate a Girl, Change a Life, Break the Cycle' by Zehan Albakri before debating the issue of how to raise 'Women's Voices'. Moderated by Rita Payne, the panel debating how to raise women's voices comprised Heidi Kingstone, Yang Mai Ooi, Lesley Downer and In Sook Chappell.
About PAWA
PAWA (Pan Asian Women's Association) is UK registered charity and professionally managed by a dedicated group of volunteers. We are focused on a single purpose: To support teenage girls education in Asia. Evidence shows that educating teenage girls is the most effective way to fight poverty. Schooling is a precondition for girls and women to stand-up against injustice and for women to be integrated into society and the economy. Since its launch in 2009, PAWA has helped 19 local projects in 11 Asian countries and reached over 7000 girls.
For further information, visit http://pawa-london.org/
About The Hermann Gundert Society (HGS)
The Hermann Gundert Society (HGS) was founded ahead of the Hermann Gundert Conference which was held in May 1993 in commemoration of Gundert's 100th death anniversary. By that time, Gundert's diaries, sources to his life and work as well as his Malayalam writings has been published. The society promotes the understanding between nations and has conducted conferences, exhibitions and exchanged programmes between India and Germany.
For further information, visit http://www.gundert.org/
About the University Women's Club
The University Women's Club is a private members club founded in 1883. by Gertrude Jackson of Girton College, Cambridge. Today, the University Women's Club is the only women's club in the UK to be wholly owned and managed by its Members. Its aim remains to provide a welcoming environment and some of 'the best talk and pleasantest evenings' for graduate, professional and business women of all ages. Its event schedule includes many dinners and other social events.
For further information, visit https://www.universitywomensclub.com/