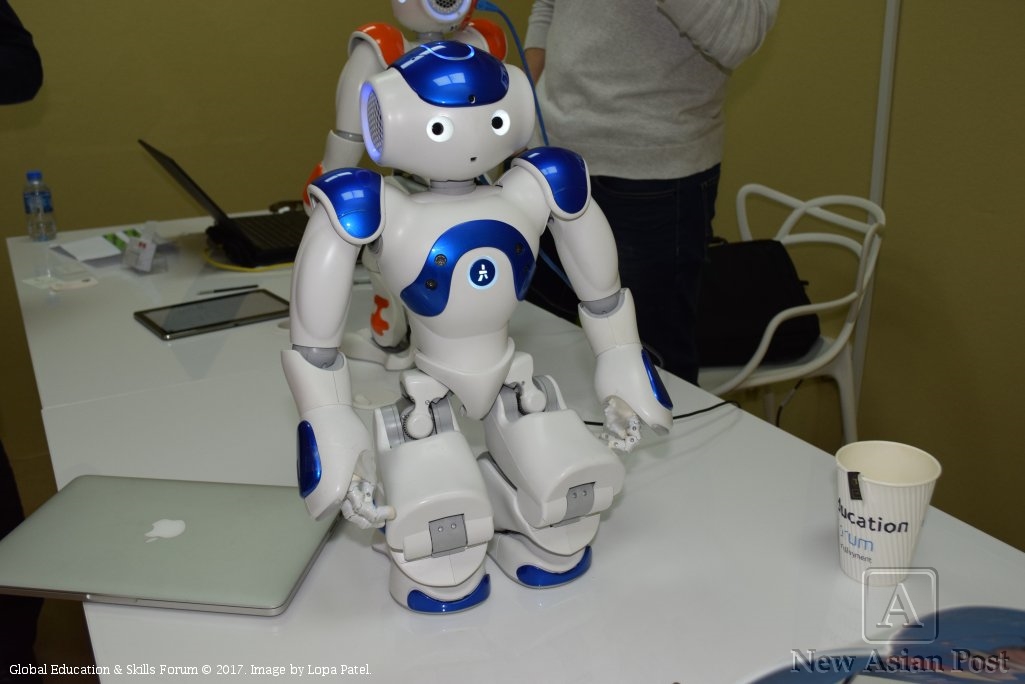 Even as I listened to a debate about whether 'education technology in the classroom is a waste of time and money' which was carried by an overwhelming majority in favour of the motion who felt that "we need to invest in fundamentals before education technology becomes the watchword", it occurred to me that schools are suffering from a "head in the sand" rather than "head in the digital cloud" syndrome. Schools are focusing predominantly on the tech tools – the whiteboards, the iPads and PCs – rather than the outcomes achieved and far too often ignoring the impact of technology on the lives of their students outside the classroom.
The Global Education & Skills Forum 2017, where this debate took place, was also showcasing the latest cutting-edge technology which included, among others initiatives, Co-writer, a robot that helps children read and write. Rather than the robot becoming the teacher, the children teach the robot, and in doing so, learn critical physical and mental skills. The Carnegie Mellon University, that organised the Future Zone showcase, also highlighted an augmented reality (AR) game that lets children learn about chemistry and discover molecules and bonding (Happy Atoms); Paper Mechatronics, which allows kids to create their own models by combining traditional paper crafting with elements of mechanical design, electronic engineering, and computational thinking and Finch, a small robot designed to inspire students learning computer science by providing them with a physical representation of their code, among others.
Blended and personalised learning offers flexibility
The use of augmented reality was further evidenced with Deep Tree and Build-a-Tree which offers a unique new visualization of the history of all life on earth, helping children to better grasp the theory of evolution and why some species thrive and some die, and, The Stanford Ocean Acidification VR Experience, the first virtual reality experience that enables kids to learn about climate change.
Yes, teachers matter. Indeed the hashtag '#TeachersMatter' is the cornerstone of the annual Global Education and Skills Forum and the Global Teacher Prize, but these very same teachers are often the technophobes in the education system. Shouldn't children be allowed to learn for themselves too?
The youngest participant in the 'education technology is a waste of money' debate, Munira Rajkotwalla, a student of GEMS Wellington, Dubai, put up a defiant fight against the motion, highlighting her own experience with Blended Learning – a programme where only 50 students have been hand-picked to study online as against conventional education. She said that not just results but also the number of hours spent on studying endorsed the value of education technology, asserting that 'technology offers flexibility' for students.
The tech genie is out of the bottle
Setting aside the latest cutting-edge education technology, the remotest corners of the world are now online thanks to the explosion of smartphones with over 1,495 million sold in the year 2016 alone. By 2017, it is forecast that almost 80% of all mobile users in the United States will own a smartphone; 86% of Chinese internet users accessed the web via mobile phone (internet penetration in the country is above 50%) and increasing numbers are using mobile technology to access information; make purchases and keep in contact with friends via social media, with 69% of mobile users accessing the Facebook app via their phone. Statistics show that at 9 years old, over half (52%) of children already have their own mobile device – either a tablet, PC or phone. By age 12, this increases to 70%. Dr Yuhyun Park, Founder of DQEveryChild movement said "These children are the first generation born and raised in a digital world. Children need help to navigate this landscape safely. Just like we need a driving license before we can drive on the roads, children need a digital education before they start using digital media and technology."
Mobile technology has revolutionised every sector including, for example, banking with apps like MPesa, which has become the most successful mobile-phone-based financial service in the developing world. The service has been lauded for giving millions of people access to the formal financial system and for reducing crime in an otherwise largely cash-based society.
Tech skills to empower young people
Global Teacher Prize Top 10 Finalist Ray Chambers from the UK, who entered teaching by accident as a result of a last-minute Computer Science degree placement, hosted a workshop teaching conference delegates computational thinking via Irish dancing! He uses his tech skills to empower young people in a fun and engaging way and says that "we need to listen to what young people want to learn". He hopes to use his knowledge to overcome anxiety among young people; raise awareness among parents about online issues and embed computing as a core part of the curriculum.
"Technology is amazing if it's used in the right way", he said, "many schools say let's buy ipads for all of our students, but they don't look at the reason as to why they need them. You need to look at the purpose, what are your students going to get from it. You need to know the outcome before you make the purchase".
"With my students I try a lot of technologies but I am reflective with it. If the technology doesn't work or is just a gimmick, I drop it." He demonstrated an electronic circuit board (Makey Makey) connected to fruit to a make a game controller – it emulates a musical keyboard to help students learn how to code.
Mr Chambers' message was simple "if you can make the content fun, your students are going to want to be in school, in your classroom giving you the opportunity to get your learning messages across."
EdTech is The Emperor's New Clothes'
James Cantenera, CEO & Founder, TULA, Philippines, opening the edtech debate for the motion, was unequivocal that investing in technology in classrooms is not the imperative today; with public funds in education being finite. While agreeing that technology is 'great,' he pointed out that "education technology will benefit people only when other essentials are in place," and warned of the consequences of technology misuse in an impressionable young audience.
With the state of educational facilities being appalling, teachers earning low wages and advances in curricula being limited, the priorities today must be to bridge these gaps. "Education technology will have its benefits one day, but right now it is wasteful before the classrooms are ready."
In a flamboyant retort, Antony Jenkins, Board Member of Blockchain, former CEO of Barclays UK, drew on the 'simple story' of 'The Emperor's New Clothes' to support the motion, and reinforcing that the tech giants are missing the big picture of the everyday realities of the educational system. "Billions are spent on electronic whiteboards, tablets and software; it just lines the pockets of tech companies," he thundered. "All these deflect resources from things that really matter – investing in teachers, for one."
Online Learning
But the Global Teacher Prize Top 10 Finalists are now showing that teaching itself has changed. There is a greater demand for online learning. Finalist David Calle started his Unicoos website by uploading a maths video to Youtube. Now, the Unicoos website is viewed over 30 million students and helps students with every aspect of learning. In 2015, Unicoos was chosen by Google as the channel with the biggest social impact in Spain.
DQEveryChild initiative to enable children to measure their digital intelligence
The DQ Institute believes that there is an acute urgency to equip children with DQ (Digital Intelligence Quotient) – the technical, social and mental skills to be informed and discerning users of digital media and be good digital citizens – a must-have competency for all children beyond IQ and EQ in order to thrive in the digital age. The Institute used the Global Education & Skills Forum to launch their new online platform which they say helps children combat their own exposure to dangers such as radicalisation, fake news, online grooming and cyberbullying. The DQ methodology is being supported by the World Economic Forum and an alliance of national governments, NGOs and ICT companies who are committed to digital citizenship and digital literacy.
Lifelong learning beyond the classroom
In his speech to The Global Education & Skills Forum 2017, Thomas Friedman quoted Intel co-founder Gordon Moore who said in 1965 'that the number of transistors per square inch on integrated circuits had doubled every year since their invention.' Moore's law predicts that this trend will continue into the foreseeable future. "Technology drives greater globalisation. We are currently facing three exponential accelerations all at the same time: market, mother nature and Moore's law. The market is digital globalisation, mother nature is climate change, biodiversity and population growth and Moore's Law, which is still applicable 52 years later, showing that the speed and power of microchips is doubling every year. " Mr Friedman added that "you cannot be teacher unless you understand the world that you are educating children for. These three accelerations are fundamentally reshaping our world." He ended by saying that lifelong learning is the new mantra, citing nano degrees and the changing sphere of the corporate world where a social contract now exists between employer and employee encouraging lifelong learners.
Although Mr Friedman was talking about lifelong learning in the corporate world, the same principles apply to the classroom teachers. Perhaps a social contract should exist between the education sector and its teachers such that they commit to learning new digital skills rather than being the technophobes looking to keep technology outside the classroom.
Images from the Global Education & Skills Forum 2017